Where is Cat Ba?
Cat Ba Island is about 9km from the center of Hai Phong city. This is a prominent tourist destination in the North with the number of tourists coming here extremely crowded on holidays or summer.
What time should go to Cat Ba?
Tourists can travel to Cat Ba any season, any time of the year because it is cool, fresh climate all year round. However, summer is always a paradise season for Cat Ba because visitors can unleash struggling in the clear water and feel a green, cool nature dispel the heat.
One note for you is that if you come to Cat Ba in the summer, you should avoid the weekend. At this time, the number of people is not only crowded, but the room rate is also very high.
Experience moving to Cat Ba island
From Hanoi: Take a bus from Gia Lam, Yen Nghia, Ha Dong bus station to the bus station of Hai Phong city (the average price of a ticket is about 100,000 VND / person).
The second way is from Hanoi in the direction of Ha Long to Tuan Chau ferry (however it will be longer). From here visitors have two options: take the hydrofoil to Cat Ba straight for 220,000 VND in 45 minutes, or take the road via 2 ferries at the cost of 11,000 VND and 6,000 VND per person respectively.
Ride a motorbike from Hanoi to Hai Phong with a distance of 140km then continue taking two regular ferries.
Tourist places in Cat Ba
1. Lan Ha Bay
Lan Ha Bay is located close to Ha Long Bay, east of Cat Ba Island, has an arc shape with more than 400 islands, large and small, covered with green leaves. Not many people know it, so this is also a plus point because Lan Ha Bay is quite quiet compared to many other famous tourist destinations.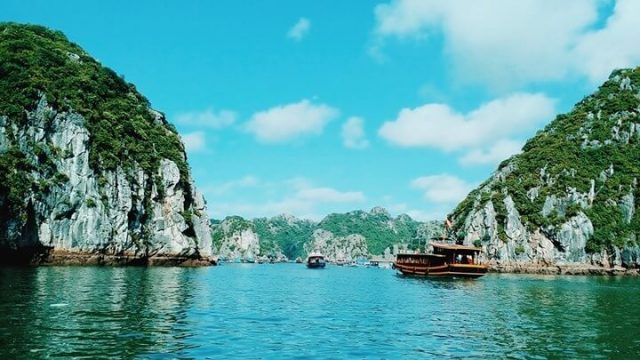 2. Monkey Island
The reason Monkey Island is so called is because there are lots of funny monkeys and extremely suitable for groups of children. In addition, if you are a person who likes to immerse yourself in the open sea, want to try the feeling of witnessing the life under the sea, you can also take a diving tour at a center right on the island for about 1 million VND / 30 minutes with a coach.
Monkey Island also has Cat Pineapple beach which is the most beautiful satellite beach of Cat Ba Island, the clear sea water makes you surprised and excited extremely. In front of the beach are undulating mountains creating extremely unique bay scenery.
3. Cat Ba National Park
Cat Ba National Park is recognized as a world biosphere reserve with rich and pristine flora and fauna is a must-see attraction when traveling to Cat Ba Island. With a ticket price of about 15,000 VND / person, visitors can choose eco-tourism routes, admire the botanical landscape inside the national forest or visit some famous caves such as Trung Trang cave, Bat cave, …
The feeling of walking in the forest, cycling the forest road, immersing in nature to unexpectedly encounter rare animals such as red-headed macaque, vampire … will really be unforgettable and impressive feelings for visitors. . Moreover, you also have the opportunity to sample natural products here such as forest honey, rose tea …
4. Cat Co Beach
In Cat Ba, there are 3 beaches: Cat Co 1, 2 and 3, the water is clear and located near the center of town, so these 3 beaches are very crowded with tourists. In particular, Cat Co 1 beach is wider, with three sides almost surrounded by rocky mountains. Cat Co 2 and 3 beaches are smaller but quite peaceful, suitable for those who want to find a less crowded and wild place. The beaches are connected by a small path along the mountainside.
From the town center, tourists can walk or rent a motorbike taxi or tram to one of these three beaches. A small note that you should land before 18:30 because the tide is high and the waves are strong.
5. Fortress of the cannon
The cannon fortress is located at an altitude of 177 meters, this is a historical site built by the Vietnamese army from the 40s of the 20th century, and still holds two large cannons, each weighing up. to dozens of tons. Besides visiting the fortress, visitors can also observe many familiar places of Cat Ba Island from above such as Lan Ha Bay, Hon Quoc Island, …
The sweeping view from the Cannon Fortress may surprise you with the beauty of the nature that nature has bestowed on our country.
6. Cai Beo fishing village
Not as vibrant as the pier to Lan Ha Bay, but Ben Beo fishing village is quite diverse types of ships, boats, boats ready to take guests to explore the peaceful beauty of the oldest fishing village in Vietnam.
If traveling in groups, guests often rent boats and large boats to learn about the life of the coastal residents, as well as admire the peaceful beauty of the river. According to the sound of paddle ripping, visitors will just listen to the interesting and close sharing about the fishing village through the boatman's story. You can also stop at households here to admire the seafood species from familiar to fancy. This place is really an ideal "hide" place for you to leave the chaos and worries of daily life.
Discover Cat Ba cuisine
1. Roasted Mantis shrimp  with salt
There are quite a lot of Mantis shrimp  in Cat Ba. The characteristics of the surface here are big, smooth and glossy, so the food from the surface is always attractive. To get this unique dish, the processor must choose the surface carefully and especially must be alive, so that when the processing is complete, the meat is intact, not crushed, broken and creates a characteristic aroma. The processing is really meticulous and meticulous to bring the best taste experience to visitors.
2. Elephant trunk
Elephant trunk is a bivalve mollusk living in salt water. This rare seafood species has high nutritional value and special flavor. Although this dish is not as popular as: clam, oysters, snails … but if one has once enjoyed it can hardly forget its unique flavor and will want to enjoy more times.
3. Sam grill
Sam with a rich sea flavor is probably the most popular seafood dish in Cat Ba. They are skillfully processed in many ways to create quite rich flavors. Raw materials for making sam eggs are blood pudding, salad, egg. No one can resist the taste of this dish no matter how it is processed: fried sweet and sour sam legs, fried sam fried with lemongrass, fried sam eggs or fried guise leaves, steamed sam, fried dough sam, cartilage grilled sam, fried sam …
4. Green crabs
Green crabs appear quite popular throughout the waters of Vietnam and are also a specialty dish in Cat Ba. Currently, due to the popularity and great demand of this dish, green crabs in Cat Ba in addition to being caught, they have also been raised in brackish lagoons as well as polyculture with other types of seafood. cages in Cat Ba or Ha Long area. Visitors coming to Cat Ba to enjoy the seafood here cannot miss this dish because of its nutritious and typical sea flavor.
Hotels and resorts in Cat Ba
1. Cat Ba Sunrise Resort
Location: Cat Co 3 Beach, Cat Ba Island, Cat Hai District, TP. Hai Phong
Standard: 4 stars
From Cat Ba Sunrise Resort, the visitors just take a few steps to reach the beautiful coast, visit Cat Ba National Park and from here, the visitors can also come to Vinh Ha Long one of World heritage of our country.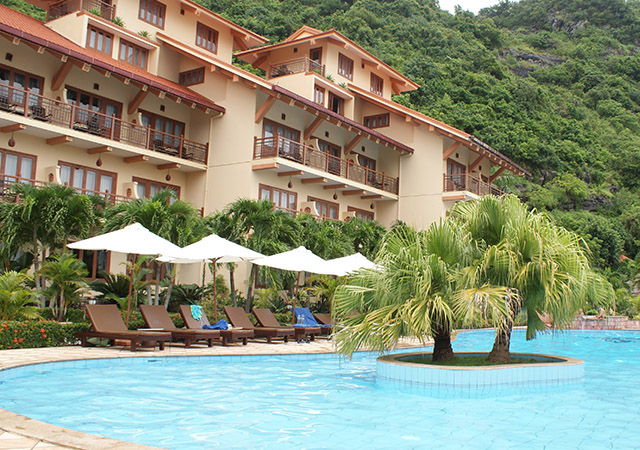 Dreamy scenery (Image: ST)
In addition to being equipped with comfortable and modern furnishings, it also has a spa to take care of beauty and relax the body and a bar for you to fully enjoy your stay.
2. Cat Ba Sandy Beach Resort
Address: Nam Cat and Cat Ba Island, Cat Hai District, Hai Phong
Standard: 3 stars
Cat Ba Sand Beach Resort attracts visitors by its romantic, quiet and very private space. With a view of Lan Ha Bay, from the hotel balcony overlooking the distance is the blue ocean with majestic limestone mountains.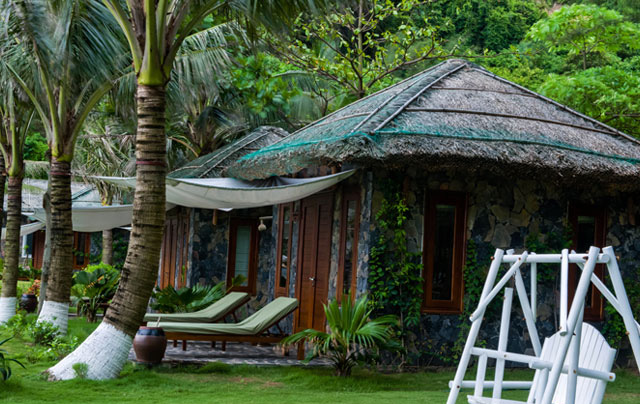 The hotel is near the beautiful beach (Image: ST)
Coming here, visitors will be immersed in the cool blue water of the sea, drop their souls along the endless walks on the smooth white sand stretching endlessly. This is truly a paradise for you to fully enjoy the life and beauty of nature.
3. Sea Pearl Cat Ba Hotel
Address: 219 ¼, Cat Ba, Cat Hai district, Hai Phong
Standard: 3 stars
Sea Pearl Hotel is located in the middle of the main road of Cat Ba resort, next to the romantic Cat Ba Bay. 14-storey hotel with restaurant, spa and music bar, pool bar.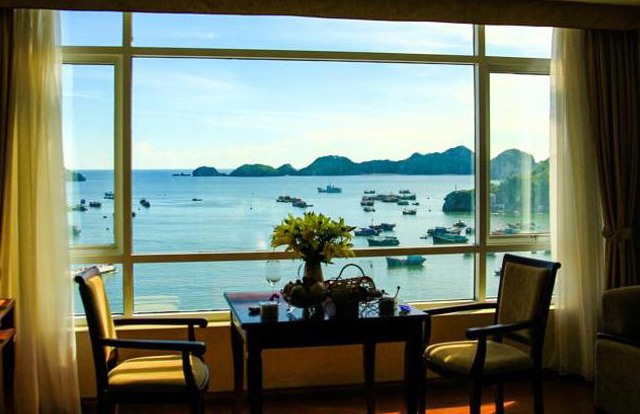 View overlooking the peaceful and dreaming sea (Image: ST)
A total of 85 high-class rooms are elaborately designed to provide a relaxing feeling like a second home for visitors. The entire front of the hotel overlooks Cat Ba Bay, behind the hotel is a system of rooms with a panoramic view of the entire resort. This is also a suitable place for visitors because of its reasonable price, top service and romantic, peaceful sea view.
One small note is that on the weekends, families, agencies, schools are very crowded, so to make sure you have a complete vacation without any problems, it is better to book in advance. room early to avoid room burn.
Hope you will have a fun stay on Cat Ba Island with these experiences.