Located about 20 km from the city center to the Southeast. Do Son is a resort with many beautiful beaches, attracting many tourists from 4 directions to visit, swim and climb mountains. From Do Son, visitors can also easily take a speedboat to visit Cat Ba, Tuan Chau or Ha Long Bay.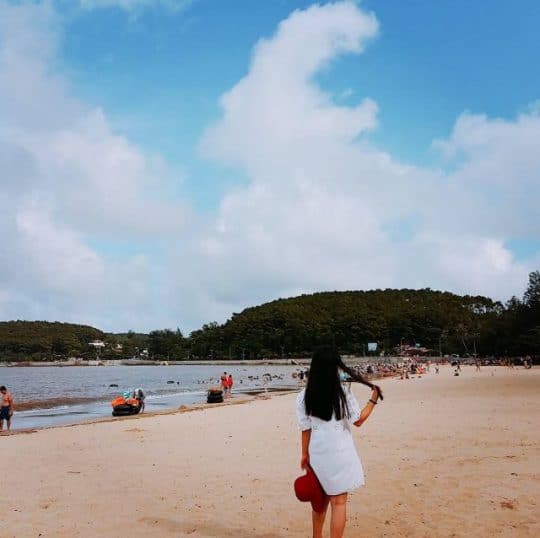 Should go to Do Son at what time?
According to Do Son travel experience, visitors can go at any time of the year. However, there are two most beautiful times that you should come here: early in the year and in summer.
At the beginning of the year, the climate is cool and pleasant, people come to Do Son to participate in local festivals and learn about Do Son culture. Every New Year comes, people everywhere come to Do Son to visit Ba De temple, pray for good rain and wind, and a warm home.
In addition, at the beginning of the year, Do Son also organizes the Dau Island festival. On this day, Do Son people in particular and people from all over the world traveled by boat to the island to worship and burn incense for good luck for a year of good trade and peaceful health. However, this season is quite cold sea water is not suitable for playing in the water and the service during this time is not much developed.
In the summer, people come to Do Son to be immersed in the blue sea, cool and cool. After a hard time working, with family or friends coming to Do Son beach to relax, there is nothing equal.
How to get to Do Son?
According to experience traveling to Do Son, you can travel by train or bus is the most economical, if traveling by taxi, the price will be many times higher, you should move with any vehicle that suits your pocket
Travel by train: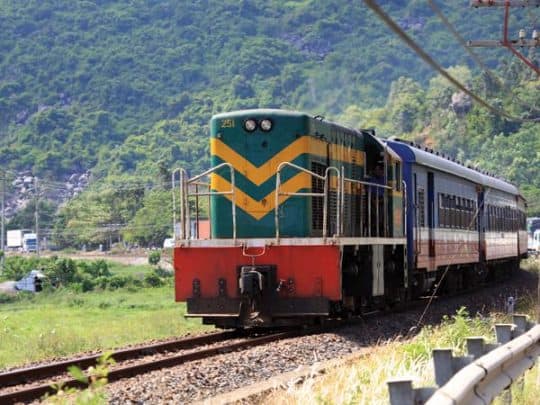 From Hanoi, you need to go to Long Bien Station, Gia Lam Station to buy train tickets to Hai Phong. From Hai Phong City to Do Son, you can choose the bus route No. 03 or choose to travel by taxi (depending on your economic conditions), if traveling by bus, it only takes 10,000 VND to buy a ticket. .
Traveling by bus:
From Hanoi, you take bus route 24 to Luong Yen bus station or Bus number 34.01.02 to Gia Lam bus station. Then you go to the wharf to find Hai Au bus to move to Do Son. When coming to Hai Phong City, you should travel by bus or motorbike taxi, similar to the above.
Self-transportation by personal means:
If traveling to Do Son by personal means, please follow route 5, when remembering to check with full papers to avoid police along the way.
What to play in Do Son?
Dáu Island:
Đảo Dáu là một bể bơi nhận tạo bậc nhất ở Châu Á với ngọn hải đăng lịch sử hơn 1 thế kỷ, có vườn chim thú cũng như khu giải trí tổng hợp. Ở đó có hệ thống các khách sạn từ bình dân đến cao cấp cho du khách thoải mái lựa chọn. Những khu nghỉ dưỡng độc đáo mang lại cho du khách trải nghiệm tuyệt vời, thư giãn.
Casino :
Do Son Casino is a major casino in Asia, attracting many players, especially Chinese and Macao. Visitors can come here to visit the most beautiful casino in the continent and try your hand at unique gambling games.
Pier ruins Khong so:
The relic of the wharf at the foot of Nghia Phong hill is a fun place not to be missed when coming to Do Son. Learning about this place will give visitors useful knowledge about the historical significance of the country through the relics of a numberless pier.
Activities on the sea
At Do Son, there are many interesting activities on the sea which are very popular with tourists, especially young people like water motorbike and parachute. These activities are not only for you to admire the whole scenery of Do Son tourist area from above, the price for a water motorbike is 50,000 VND / minute, although the flight is 500,000 VND / one way. .
Which hotel should stay at Do Son?
The hotel names that we can mention when coming to Do Son include: Hon Dau resort, Do Son Villa, Han Vet Hotel Do Son, Hai Quan Do Son Hotel.
Located in Area 3, Van Huong, Do Son District, Hai Phong. With a luxurious space, surrounded by a beautiful ecological system, promises to bring visitors the ideal relaxing moments.
Do Son Villa is located in Area 2, Do Son District, Hai Phong. With modern architecture accompanied with high-class services, Do Son Villa will be the right destination for those who want to enjoy the most comfortable space.
Located in Ly Thai To, Van Huong, Do Son, Hai Phong. Han Vet Hotel Do Son is a hotel that satisfies all resort needs, with reasonable prices.
Located at No. 1 Central Area, Van Son, Do Son, Hai Phong. Lam Nghiep Do Son Hotel is chosen by many travelers for relaxation because of its fresh space, proximity, nature friendliness, reasonable price and one important thing to Lam Nghiep Do Son Hotel, you do not worry. out of the room.
What to eat when traveling to Do Son?
In Do Son, there are many delicious dishes that visitors can taste such as:
Seafood noodle
With a beach resort, there are many kinds of delicious seafood is understandable. Crabs, squid, shrimp, etc. are flexibly used by people to process vermicelli at the request of tourists. Seafood noodle is always used by the majority of tourists when coming to Do Son beach.
Stir-fried snail
Hai Phong fried snail is always favored by tourists when traveling to Do Son. In this dish, spices will be seasoned and absorbed into each snail, when eaten, it feels very charming and attractive. Stir-fried snail dish will be very difficult to make people bored, eating as much as you see is not enough.
Crab hotpot
If you are experienced travel to Do Son, it is impossible not to know the crab hotpot. If traveling with family or friends, do not miss this crab hotpot. The typical hotpot flavor of Do Son and crab will certainly make you satisfied and interested.